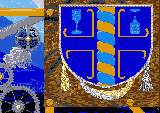 Azure, a pale wreathed Or and
bleu-céleste surmounting a
cross moline of the second
voided throughout, between
in dexter-chief a goblet of the
third and in sinister-chief a
goblet reversed of the third.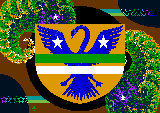 Or, bars-gemel vert and argent
surmounting a swan displayed
azure charged on each wing
with a mullet of the third.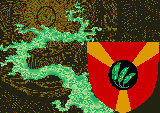 Gules, three piles Or in point
issuant from dexter-chief,
sinister-chief, and base,
surmounted by an ogress
charged with a sage sprig of as
many leaves proper.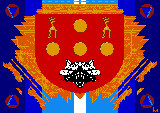 Gules, three bezants fesswise
between, in chief, a bezant
between two spurs Or, and,
in centre-base, a raccoon's
mask proper.